We're going to review three of the most popular wet polishers on the market today: the Makita PW5001C, the Flex LE 12-100 and the Metabo PWE 11-100. These tools are professional quality, each with their own loyalists and each has their own strengths and weaknesses. By discussing them, we hope to help those who haven't decided on one get the right tool for them.
These polishers all have a high build quality and excellent components, but their specs do vary. Lets discuss those differences. To begin with, RPM range is important. Different types of polishing pads and stones respond better to different polishing speeds, so the wider the range, the more flexible the tool. Amps are also important as higher amp motors have higher torque and therefore provide more consistent RPM's. The other primary consideration is weight and overall balance. You may be holding this tool all day long. As fatigue sets in, so does the quality of the work. Everything is a compromise.
Master Wholesale sells each of the these three tools. Below are links and current prices:
Makita PW5001C - $315
Metabo PWE11-100 - $295
Flex LE 12-3 100 - $339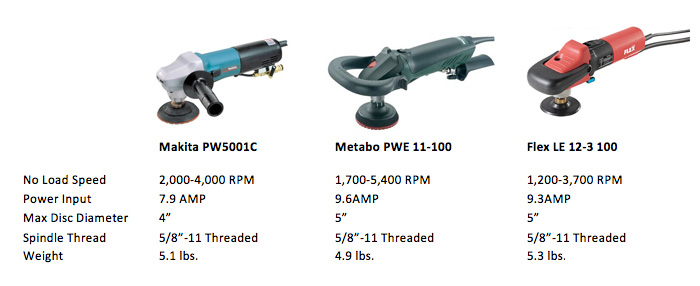 What The Manufacturers Say
We asked each of the manufacturers to give us their appraisal of their tool. We thought this would be fun and also to give them an opportunity to explain their approach to designing a wet polisher.
Here's what Makita has to say:
"The Makita Wet Polisher (PW5001C) is at the top of its class. Using the best materials and motor technology (over 100 years of manufacturing electric motors) and innovative design puts Makita in a class by itself. The PW5001C was designed with help from Master Wholesale and other top stone fabricators around the country. Makita incorporated the first under the tool water source for better ergonomics. Variable speed, soft start, electronic speed control, and a best in Class Makita Motor make the PW5001C the clear choice."
Bob Eichelberg, President of Flex North America Inc., says:
"Flex North America, Inc. manufactures heavy-duty power tools for all types of natural stone (granite, marble, slate, onyx and limestone), concrete, asphalt, brick and cinder block, as well as grinders and polishers for the metal and automotive industries. Flex wet polishers make them the industry leaders, starting with a brass quick fit connector for easy connection to a ½" water hose. Water feed and flow control are fitted under the motor housing. Extra powerful 9.3 amp motor with high torque. Softstart, over load protection for machine safety. These are Flex exclusives that set them apart from their competition. Dust protected switch, GFCI cable and a truly Flex exclusive powder coated magnetic motor for longer motor life. For over 90 years, Flex has manufactured quality products in Germany. It may cost a little more, but quality rubber cords, burnout protection, motor coatings and long 8" rubber water hose sets us apart from the rest of the world."
Here's what Terry Tuerk at Metabo had to say:
"Let me tell you about a few features of the Metabo wet polisher. This Metabo PWE 11-100 wet polisher. 9.6 amps, 1,100 watt motor, VTC speed stabilization, this machine is fastest to the finish. This machine has a wide variable speed range, from 1,700 to 5,400 RPM's, so from final finish right to material removal. We have a very accessible spindle lock button on top. The red button is your spindle lock so if you need to change out your disc you can very easily with a one finger press to change your discs. We have a very ergonomic "D" handle easily adjustable by loosening the thumb screws, you can adjust this handle into any position, where you like, tighten it back down and you're ready to go right back to work with the machine. It's easy to hold in either hand, in any position you want to work, whether you're flat, working on edges, left handed, right handed, great and easy to hold onto the machine. Also features a ½" standard quick release for the water connection."
Ok, so those weren't exactly the most objective reviews, but we thought it would be interesting to see what the manufacturers said about their own tools. Many years ago, we helped Makita design this polisher. It is a great tool and the first to come to the market with variable speed control. This is the tool that really revolutionized the wet polishing market. It has a great price point and they were the first to make an affordable wet polishing tool. It fits well in the hands with very little water over spray. The Makita is by far our most popular contractor tool and has the best warranty support. It does have a little bit higher return rate than the other two tools, but it is definitely professional grade.
The Metabo was last to come to the market, and they did their homework. The Metabo can take a 5" pad holder. The rpm range is 1700-5400 is adequate for both polishing and stock removal. Metabo also has a very low return rate. It's powerful and the lightest of the three. I think Metabo could revisit the ergonomics though. It doesn't feel quite as comfortable as the other two polishers.
The Flex tool is a second generation tool. Flex was the original manufacturer of wet polishers. Flex took its years of knowledge and rolled it up into their new variable speed tool. I like the way the Flex fits my hands, it's very comfortable to hold. It also can take a 5" pad holder which is a bonus. One of the things I really like is that it comes with a black, flexible hose on it so you don't have to deal with a stiff garden hose connected up to the back of the tool. Believe me when I say this makes a difference!
The one thing I find disappointing with all the manufacturers is they do not include the accessory you need to hook it up to a hose. Come on guys, it's a $3.00 part! Any of these tools will meet the needs of most fabricators. They are all well designed and have ample power. For me, even if it's a little more money, I like the Flex because of it's high quality, dependability, it stays cooler and feels great in my hands.